Dr. Shoemaker discusses CIRS on THE BETTER LIFE BY DR PINKSTON RADIO SHOW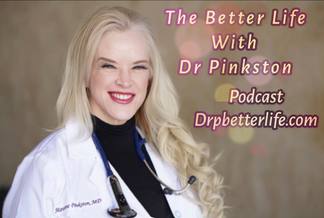 "Dr Shoemaker is a recognized pioneer in patient care research and education in the field of biotoxin related illness. While illness acquired following exposure to the interior environment of water-damaged buildings (WDB) comprises the bulk of Shoemaker's daily practice, other illnesses caused by exposure to biologically produced toxins are quite similar in their "final common pathway. Chronic Inflammatory Response Syndrome or CIRS is well known for being a mystery illness of which many providers are undertrained and lack knowledge but the truth is patients are very treatable. Ray Solano joins in the discussion of available therapies. There is hope."
Learn More about Dr. Pinkston and The Better Life by Dr. Pinkston Radio Show

watch or listen on any of the options below:
Youtube
iTunes
Spotify
About Dr. Pinkston and The Better Life
RADIO SHOW, PODCAST, YOUTUBE CHANNEL
Dr. Pinkston is working hard to create a new vision for health and wellness with real world solutions of science and technology lost in this day and age of "cookie cutter corporate culture." Dr Pinkston is a graduate of the University of Texas Health Science Center, San Antonio and of the Christus Santa Rosa Family Practice Residency Program graduating in 2000 and starting her clinical solo practice, Dr. Pinkston provided South Texas with the best general care in family practice until 2007 when she developed Rheumatoid Arthritis. She then began fellowship training through The American Academy of Anti Aging Medicine in Integrative Medicine. Having learned and changed her own life losing 162lbs through diet, exercise, hormones, mind and body techniques she has regained her health and wants to help others discover their own path to wellness. With her passion and drive to improve access to real world solutions, the doctor is now on local radio show with a national platform on Sirius XM and will have a podcast, blog and YouTube channel! Stay tuned as developments are happening EVERYDAY
Bio
Dr Marianne Pinkston is a family practice physician and integrative medicine physician in the San Antonio community for over 25 years. Dr Pinkston graduated from Texas Tech University in 1992 BS in Biology, Medical Degree from The University Of Texas Health Science Center San Antonio in 1997 and CHRISTUS Santa Rosa Family Practice Residency Program in 2000. Dr Pinkston was also accepted into a research position at NASA to enter the Astronaut and Space Program until NASA was disbanded in the 1990's. Dr Pinkston has owned and maintained her own solo practice 22 years having seen over 40,000 patients in the San Antonio community and Helotes and over 10,000 teaching hours as adjunct professor of 11 schools, and personally served as president or Vice President of several local NISD or private school PTA and extracurricular school programs, while owning 3 locations of her practice, a medical spa for weight loss and anti-aging and autoimmune disorders, medical director of 3 clinics, mom of 3, and even a soccer coach for 4 years all while suffering Rheumatoid Arthritis, Autoimmune Hepatitis, cancer and more. Dr Pinkston also lost 162lbs in one year having suffered Diabetes and complications of therapy of Rheumatoid Arthritis and has trained for fitness competitions. She has been voted Most Compassionate Doctor many years in a row by patients and Best Doctor by her peers many years through SA Scene and Texas Monthly Super Doc series. Dr Pinkston has served on many boards, recently voted in as a Board Member for the San Antonio Women's Chamber of Commerce, in the past as a physician Liason at Humana Insurance, elected Secretary of the Alamo Chapter of Family Practice 3 years, Physician Liason at the Texas Academy of Family Physicians, Global Pain Association Board, health and fitness editor of SAMonthly Magazine, and is the member of more than 11 professional associations and academic organizations.
Dr Pinkston has extended her family practice training to accomplish a fellowship in Integrative Medicine through the Morsani School of Medicine associated with George Washington University and is in progress of a Fellowship in Metabolic and Nutritional Medicine and Anti Aging, Stem Cell and Peptide Certification and Certified in Hormone Replacement Therapies and many hours in Longevity and Metabolic Medicine. Dr Pinkston is a radio talk show host and hosts a podcast/YouTube channel both locally and nationally for 3 years previously 2 years on 550 KTSA and now 930 KLUP, and Sirius XM and PDLabs Healthy Choices Network all links at Drpbetterlife.com. Dr Pinkston is published and speaks for multiple platforms on TV, Radio, internet, magazines, societies, GPA Live for Global Pain Association and social functions as an educator and motivational speaker. Dr Pinkston is a loving advocate for her family, patients, and students and is a drummer, sky diver and mom.
Featured Resources for Community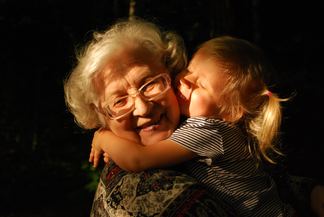 It does take diligence and some proactive planning, but preventing mold exposure and thriving with CIRS is doable and possible, even through the busy holiday season. There are apparent consistencies, practices, and behaviors among those who thrive with CIR...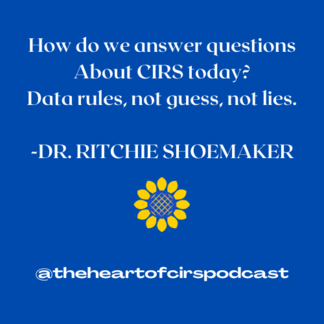 Heartfelt conversations with folks recovering from CIRS & with those special people serving the CIRS community (Chronic Inflammatory Response Syndrome).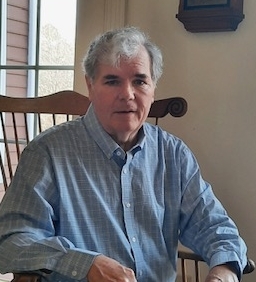 Recently, one of Dr. Shoemaker's reputable colleagues, Dale Bredesen, M.D., decided to announce his own "Noble Prize" criteria and nominations giving a nod to the life-saving work of a few esteemed medical and scientific pioneers. Dr. Shoemaker made t...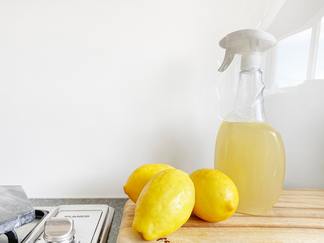 Living with CIRS means cleaning and maintenance efforts must be ongoing and up to CIRS-safe standards. Spring is a perfect time to do a thorough examination and cleaning of the entire home and create a schedule for the year ahead.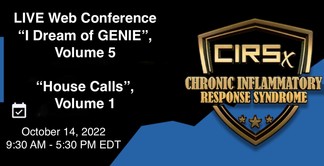 Joint Surviving Mold | CIRSx Web Conference Broadcasting Live from Salisbury, Maryland October 14, 2022 9:30AM- 5:30 PM EDT
Related Resources for Community