Surviving Mold (2010) *NEW*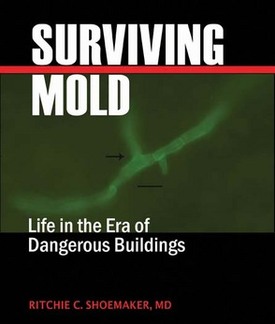 For decades the medical community has either ignored, or been ignorant of, the threat posed by toxic mold to human health. Sometimes referred to as 'sick-building syndrome,' often mis-diagnosed as any one of a number of chronic and incurable conditions such as chronic fatigue syndrome, fibromyalgia, depression, learning disabilities, or endometriosis, the effects of mold form neurotoxins on human beings have long been poorly understood and thought unworthy of serious study.

But this same toxic mold infests our homes and buildings at an alarming, perhaps even epidemic, rate -- and so many of the 'untreatable' conditions that physicians are ill-equipped to diagnose and treat are the result of the neurotoxins released by these ubiquitous organisms. Dr. Ritchie Shoemaker has been the leader in the field of research into the effects of toxic mold on the human body, with hundreds of success stories in the treatment -- and even complete eradication -- of the chronic conditions that have been puzzling so many doctors the world over.

In Surviving Mold, Dr. Shoemaker shares his latest findings and offers hope to those who have been continually let down by the medical community. Containing Dr. Shoemaker's cutting-edge research into the effects of chronic neurotoxins, Surviving Mold also exams in-depth the root causes of the growth of dangerous mold forms in buildings and homes.

Inadequate maintenance, poorly thought-out design, and failure to understand the relationship between the internal environment and the promotion of harmful organisms are at the root of the problem of sick-building syndrome. Water damage and internal moisture from incorrectly installed roofs and windows or leaking plumbing, are all-too frequently the cause of the growth of toxic mold. And if these problems do not occur in your home, perhaps they can be found in your place of work, or in your child's school -- environments completely out of your control, but dangerous to the health of you and your loved ones nonetheless.

Surviving Mold gives the real science behind the scary headlines, and offers strategies for identifying and rectifying the dangers of indoor toxic mold growth, as well as suggestions for alleviating the debilitating effects of exposure to the chronic neurotoxins produced by mold.
---
Reviews...
"How quickly physicians become trapped into thinking and proceeding along one path of assumptions, and thereby miss other possible explanations for problems and solutions."
Frank R. Mark, MD USPHS (ret).

"I was nobody as a mold patient. Nobody. No physician bothered; not any physician cared to actually listen to me. I saw some of the best doctors in the US only to stay disabled and getting worse. Not any more. I want to help every person who was as sick as I was. So many now look to me for hope. I am a Mold Survivor. And now I have my life. Thank you for never giving up, even when I made it tough."
Barbara Jones, New York City.

"The world needs awareness of Dangerous Buildings. We cannot fold to pressures of bias and special interests who seek financial gain without regard for human health. Without doctors like you we would all be in peril. I thank you for your continued efforts to protect people."
Tim Corr, Esquire, Michigan.

"You're right up there with Pasteur, in our eyes."
Sue Brinchman, Director, Center for School Mold Help
---
International orders will be contacted with a shipping estimate for approval before your order is processed. Please submit your order and complete address, telephone, and email address, and you will receive a postage estimate right away. Thank you for your cooperation.
International orders must include a physical address, and not a P. O. Box or other type. Physical address and phone number are required for shipping.