Treatment of CIRS-WDB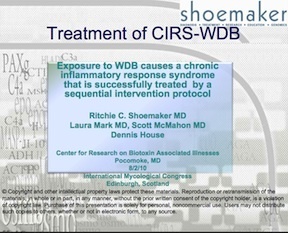 2010 (47 Slides)
Exposure to WDB causes a chronic inflammatory response syndrome that is successfully treated by a sequential intervention protocol
IMC - this is the largest treatment study on mold illness in the world's literature. Ample presence of inflammatory parameters and absence of neuropeptides identify the "mold illness" as chronic inflammatory response syndrome.
Ritchie C. Shoemaker MD; Laura Mark MD; Scott McMahon MD; Dennis House
8/2/10
International Mycological Congress Edinburgh, Scotland
Preview:
---
You will receive a .pdf file via email within 24 hours of placing your order.