All Three Training Modules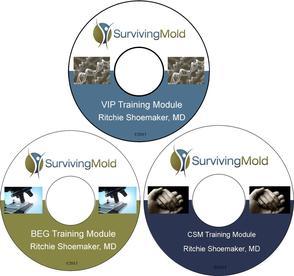 As we look at the FAQ we receive, many have to do with use of cholestyramine; use of BEG spray for MARCoNS; and use of VIP. In an effort to help we have made a teaching module for each topic to give people a more in depth look at these critically important areas of treatment for CIRS patients. The modules include (1) a video on each topic, with (2) the text for each (the script) video; (3) the PowerPoint for the video and (4) summaries of each topic and treatment protocol information. We feel these modules will become an important part of the "learning curve" for patients and physicians alike. The videos feature a discussion between Dennis Katz, Registered Pharmacist and Ritchie Shoemaker MD.
The modules are no longer available on DVD but are available as a download. You will receive an email with links to download each module.