Mold Warriors (2005)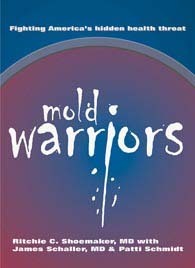 Review
"Thank you for your expert testimony on toxic mold at the Capitol hearing. . . brilliant and cogent testimony in the Congress." --John Conyers, Member of Congress, Sept. 22, 2004.
"Fascinating insight into a truly national problem. Dr. Shoemaker actually seeks to cure mold affected patients." --Dan Bryson, Esquire, Lewis and Roberts, Raleigh, NC, November 11, 2004.
"Compelling, immensely readable and relevant. Cuts through the politics and pulls no punches. --Susan Brinchman, author, Center for School Mold Help, November 12, 2004.
Product Description
From the forewords by Dr. Richard Lipsey and Bianca Jagger to the Epilogue, with the inside story on the cancellation of an entire season of Scotia Prince Cruises in Portland, Maine, Mold Warriors is the first book that brings together the truths that underlies the struggle of patients made ill by toxin-forming mold growing in water-damaged buildings to regain their health and their lives. Mold Warriors has 640 pages and 25 chapters of compelling writing and actual events that demonstrate the medical, legal and scientific battles of the Mold Wars. Biologically produced toxins make many of us chronically ill, steal the life-savings of many victims, prevent our children from achieving their academic potential and our health care system is largely blind to diagnosis and treatment. By reading Mold Warriors, you will learn how to use the Biotoxin Pathway, a magnificent scientific and medical breakthrough, to then easily recognize and treat the mold illness, leaving behind meaningless diagnoses such as fibromyalgia, chronic fatigue, stress, "chronic pain syndrome," deconditioning and more. With Mold Warriors as your companion, you will not be forced to listen to "experts" who tell us that damp buildings might cause respiratory problems, but not neurologic problems, fatigue and cognitive impairment. You will be freed from legal defense consultants who would attempt to falsely deny you your legal rights to compensation for property loss and personal injury. Here are the facts about mold illness; show them to your Congressman and your physician. If you are made ill by exposed to water-damaged buildings, use Mold Warriors to show what is wrong with you on a printed page of lab reports; sometimes just knowing what is wrong becomes the biggest step towards return to health. Begin a step-by-step treatment protocol, published in high level, peer-reviewed, academic journals, that provides a plan to treat sequentially the complex physiologic abnormalities that are caused by exposure to biotoxin-forming indoor molds. You don't have to stay ill from mold any longer.
Paperback: 640 pages
Publisher: Gateway Press; 1ST edition (April 2005)
---
International orders will be contacted with a shipping estimate for approval before your order is processed. Please submit your order and complete address, telephone, and email address, and you will receive a postage estimate right away. Thank you for your cooperation.
International orders must include a physical address, and not a P. O. Box or other type. Physical address and phone number are required for shipping.
Out of Stock