Background
With the advent of new technologies and acquired knowledge, the number of fields in biomics and their applications in diverse areas are rapidly increasing in the post genomics era. Such emerging fields present promising solutions to combat global challenges in biomedicine, agriculture and the environment.
We now offer these validated services under license at competitive rates, as shown below and discounts are offered to IEPs & Practitioners.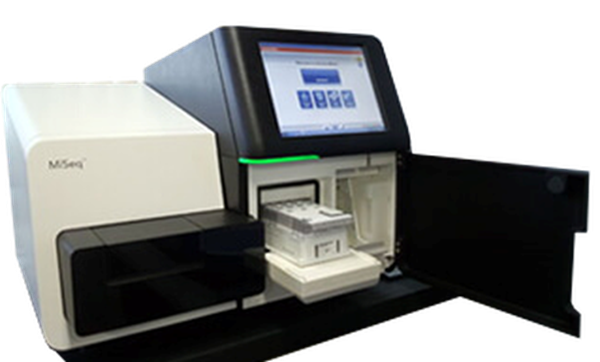 Our Services
EnviroBiomics applies MSQPCR & NGS technology to the understanding of the spectrum of microbial colonization of your biome – the space you share with the organisms in our World.
Please call us to discuss discounts for volume samples.
FOR MORE INFORMATION: www.envirobiomics.com
11550 I-10 W, Suite 105,
San Antonio, Texas, 78230
Phone 210 570 2095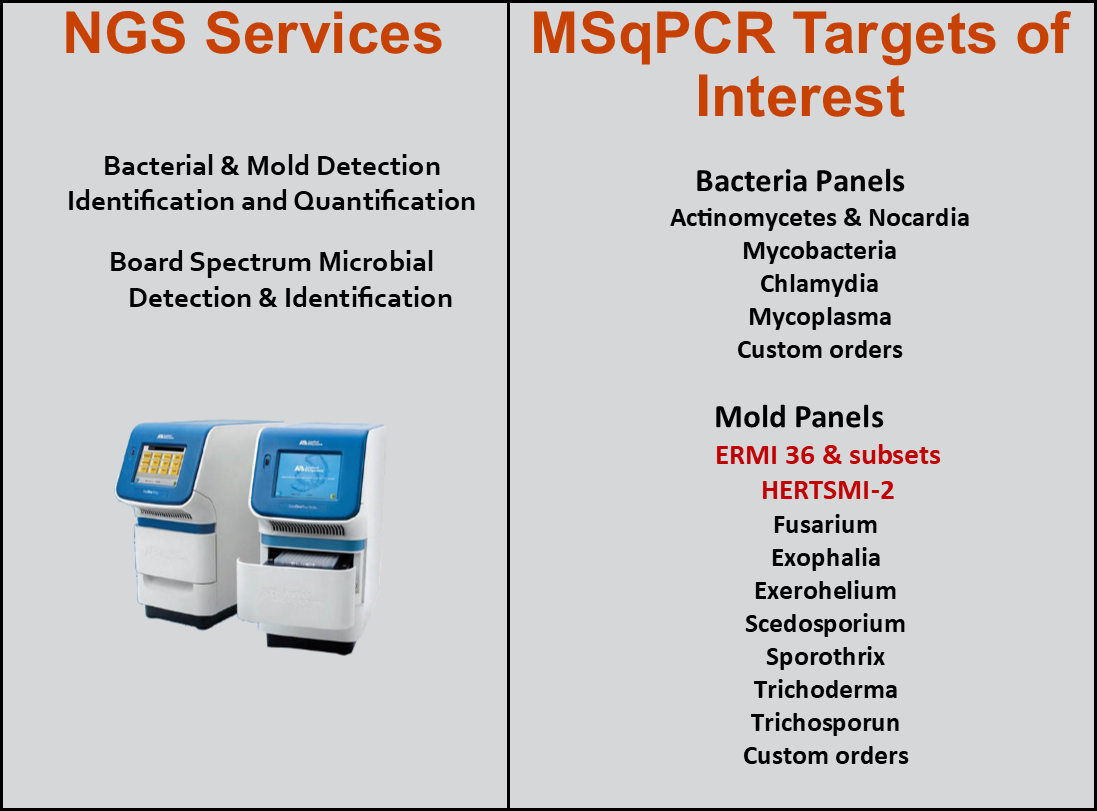 January 2019 Price List
NB: 1 Day Turn-Around-Times (anything less than 24hrs) are subject to restrictions including but not limited to lab operational hours.
We also ask clients to pre-arrange urgent samples with us – meaning that they should call/email us a minimum of 1 day before receipt to arrange urgent samples to be accommodated into our lab timeline and processed appropriately.
ERMI Testing - Environmental Relative Moldiness Index
Is Your Home or Building Safe For You?
Mold illness comes from any indoor environment that is damaged by water intrusion. What would you do if you faced the following concerns of real patients?
You are a new home buyer. You have a history of unusual fatigue, cognitive problems, and chronic respiratory problems. Your doctor says indoor mold makes you sick. How can you tell if the beautiful new home across town is safe?
Now make yourself a 55-year-old secretary at a large manufacturing site. Your office had visible mold growth; you were proven to be made ill by re-exposure to the office. Your employer assures you the office has been cleaned thoroughly.
Now have three sick kids in a riverfront town in Massachusetts. Your children were told they had Lyme disease, but they didn't get better with tons of antibiotics. Another physician says your kids are sick from exposure to WDB.
How do you know if toxigenic molds are in your indoors? Do you spend thousands of dollars for an industrial hygenist to come in and take a few air samples? There is a better and simpler way that you can do yourself to ensure you and your family are safe.
What is ERMI?
ERMI is the Environmental Relative Moldiness Index. Based of leading scientific technology, Quantitative Polymerase Chain Reaction (MSQPCR), the ERMI has brought to light the darkness of indoor mold testing.
ERMI is an objective, standardized DNA based method of testing that will identify and quantify molds. ERMI uses the analysis of settled dust in homes and buildings to determine the concentrations of the DNA of the different species of molds. Thirty-six species were divided into 26 species/clusters of molds associated with WDB (Group 1) and 10 common species/clusters not associated with WDB.
The mold index is the difference between Group 1 and Group 2 found in a building. The computer ERMI values are graphed from lowest to highest. The scale ranges from -10 up to 20. The percentages of buildings that fall into different ERMI percentages is shown. For example, an ERMI of 14 is in the top 25% of homes for relative mold burden.
The automated analysis provides for rapid, reproducible results that can be reliably interpreted. For patients, prospective home-buyers, industrial hygenists and remediators alike, ERMI shows great promise for the future.