Online Screening Test - The VCS APTitude Test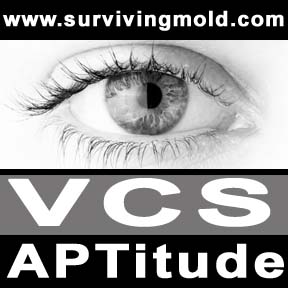 Now Available on www.survivingmold.com - a way for you to take the online screening test right from your computer.
Surviving Mold Online Store
Welcome to the SurvivingMold.com Online Store. New mold sickness related products are being added frequently. We want to provide a trusted resource for you to obtain products and information that will be helpful to your fight with biotoxin illnesses.
Categories:
Surviving Mold (2010) *NEW* $19.95

$9.95

$19.95

$9.95

Get your copy of Dr. Shoemaker's new book today! It is a valuable resource for understanding illness associated with water damaged buildings.
Over nine hours of video, with talks by Ritchie Shoemaker, MD, a special section on "Shoemaker for Dummies" presented by Neil Nathan, MD, and Alan McDaniel, MD on non-IgE mold allergy, with panel discussions including these doctors, plus Eric Gordon, MD, an...
For the first time, Dr. Shoemaker's lectures are available for physicians to be trained in his protocols, as well as collation of research data. Learning how to use an organized approach to diagnose and treat biotoxin illnesses opens an entire new world ...