Online Screening Test - The VCS APTitude Test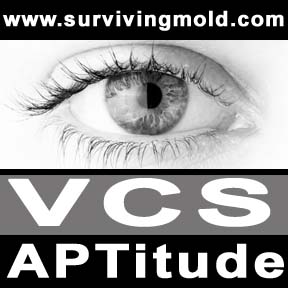 Now Available on www.survivingmold.com - a way for you to take the online screening test right from your computer.
Surviving Mold Online Store
Welcome to the SurvivingMold.com Online Store. New mold sickness related products are being added frequently. We want to provide a trusted resource for you to obtain products and information that will be helpful to your fight with biotoxin illnesses. Now offering international shipping! The additonal charge will appear during checkout.
Categories:
Don't miss a minute of our Third Annual Conference with this Replay of the Live Stream event!
The Center for Research on Biotoxin-Associated Illness is a 501-c-3 tax exempt organization and contributions fund research efforts and provide cash assistance to patients so they can get the care that they couldn't other wise afford.
MPI is a weighted percentage risk assessment that gives information about a property's ability to have major water damage and mold problems, based on usual and customary events.
2014 Conference: State of the Art in CIRS - 2 DVD Set $125.00

$49.50

$125.00

$49.50

This DVD set is from our first conference in Salisbury, MD in 2014. While this conference was open only to providers, the entire series of presentations is now available on a two disc DVD set
Beginning in 2011, a Physicians Section of Survivingmold provided a forum for discussion of issues regarding mold, Lyme, chronic inflammatory response syndromes and more. Part of the forum included a dialogue on questions that have importance for physicians...
Progene DX CIRS Assay $1828.50

$0.00

$1828.50

$0.00

Our proteogenomic analysis identifies proteins and/or genes that are differentially expressed in subjects suffering from CIRS compared to healthy subjects. With Progene DX, you can see what is happening at the gene transcription level so you can target you...
2015 Conference Option Now Available! Surviving Mold announces a new resource item for public and professional use. This resource was first used for assistance with background in CIRS for attendees of the 2014 Cutting Edge Mold Physicians Conference held in...
Surviving Mold (2010) *NEW* $19.95

$15.95

$19.95

$15.95

Get your copy of Dr. Shoemaker's new book today! It is a valuable resource for understanding illness associated with water damaged buildings.